Before Marc Reitter was the president and chief operating officer of AEP Ohio, he grew up working in a central Ohio stucco business started by his great great grandfather in 1915.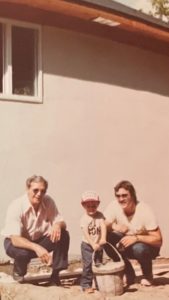 Though Marc grew up in the shop – there's a photo in his office of him slapping stucco to a building as a six-year-old – the idea of any special treatment was quickly out the window.
"I think it was part of my grandpa's plan to embed me with crews and teach me the importance of a hard day's work," Marc said. "And it worked, let me tell you. That job wasn't easy."
As a teenager Marc spent his summers on the jobsite. He hauled stucco and stone, built and tore down scaffolding and took orders to do the work involved in all phases of the construction process. And if his effort wasn't up to snuff, he heard about it and learned from his mistakes: Marc recalls one time having to spend hours chipping hardened cement out of a mixer because he failed to clean it adequately.
During those hot summers Marc often labored shoulder to shoulder with no-nonsense workers — some who had brushes with the law or had been down on their luck.
"My grandfather believed in second chances," Marc said. "I saw it firsthand, and it's always stuck with me."
Fast forward to today.
With deep ties in the Columbus area, Marc has always been passionate about doing what he can for his neighbors and helping the communities around him grow and thrive. He is the board chair at Goodwill Columbus and sits on the governing boards of the Down Syndrome Association of Central Ohio and the Foundation for Appalachian Ohio. In these roles he puts into practice the lessons his grandfather taught him as a child – people deserve second chances and it's important to give others who may be less fortunate the opportunity to succeed.
"At Goodwill we like to say we offer a 'hand up'," Marc said. "Of the people we help, some need a second chance, some even a third chance. And some never had a chance at all. We're trying to improve their quality of life. All they need is a chance and the opportunity to prove themselves."
As AEP Ohio president and chief operating officer, Marc leads the team that directs the company's charitable giving, funding that includes support for food and housing initiatives, STEM education, environmental sustainability and economic development.
"Giving back is part of who we are at AEP Ohio and it's just the right thing to do," Reitter said. "We're only as strong as the communities we serve. We have a shared future, and that means lifting each other up so that we can all succeed — together."