A few AEP Ohio employees from the Van Wert Service Center recently participated in "Let's Get Down to Business," an event organized by the Career Connections of Van Wert County.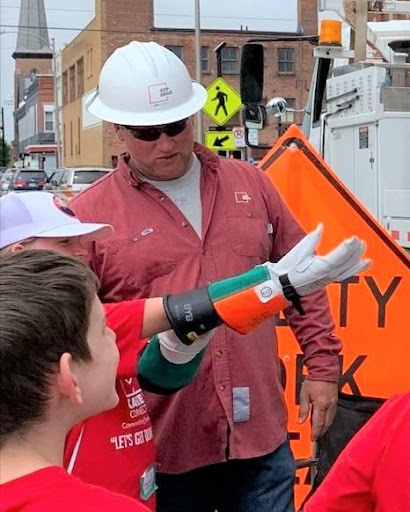 To learn more about finance and how to manage a budget, fifth graders began the day with an allotment of "money" that they spent at various stations in order to pay their bills. The children stopped at booths manned by various local businesses and tradespeople, and each provided a quick look at the utility or service they provided.
The journey included a visit with the power company. AEP Ohio distribution system supervisor Steve Tadena and line workers Seth Evans, Doug Wannemacher and Evan Winters explained how electricity works, demonstrated how to climb a pole and showed off some personal protective equipment. The fifth graders asked plenty of questions before paying their "bill" with a ticket from their bag.
Steve said he and the team try to participate in these opportunities as often as possible.
"It's a really good thing. This is the first year of the event and we're going to try to do it every year." Steve said. "It's also a chance to learn more about local businesses and educate them about what to do if the power goes out. Anytime we can go out in the community, we're happy to help — and it was fun."