Sarah Powell, forestry supervisor at AEP Ohio, couldn't help but laugh as she held out the tree branch the forestry team had cut that morning for the giraffe to grab. "It's not every day that you get to look a giraffe in the face and feed it," she said. 
But, thanks to AEP Ohio's Trim to Treat program, the giraffes and other animals will regularly have the opportunity to enjoy fresh tree trimmings, branches and twigs, also known as browse. Through this unique partnership with the Columbus Zoo and Aquarium and The Wilds, some of the trees and branches our forestry crews regularly trim are donated and delivered to the Zoo and The Wilds for the animals' benefit.
Because fallen trees and limbs are one of the top causes of power outages, our forestry crews assess the trees around our lines and equipment in neighborhoods and trim back or remove any threats. Now, the tree trimmings can serve a dual purpose.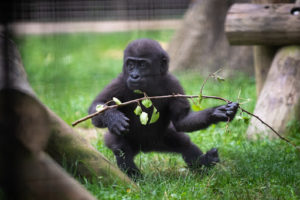 Photo courtesy of Grahm S. Jones, Columbus Zoo and Aquarium

"We're taking branches we'd normally be trimming off the trees to maintain the power and instead of shredding them and putting them in a truck to use as mulch, we're repurposing them to benefit the animals," Dale V. Hopkins, forestry manager explained.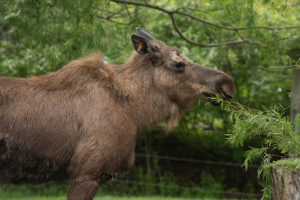 Photo courtesy of Grahm S. Jones, Columbus Zoo and Aquarium

As the giraffe pulled the remaining leaves off the branch Powell was holding, she shook her head in amazement. "We're going to be trimming trees anyway, so the fact that those limbs can benefit the animals is as much of a treat for us as it is for them." 
For more information on Trim to Treat, please visit our website.