Six years ago, a group of people with a passion for animals came together to fulfill an unmet need in Perry County, Ohio. After a couple of years of planning and working with county officials, Perry Animal Welfare Society (PAWS) took in their first rescue dog in 2018.
The foster-based and volunteer-driven nonprofit has been a resource to many in Perry County and the surrounding areas, finding forever homes for the dogs and cats under their care.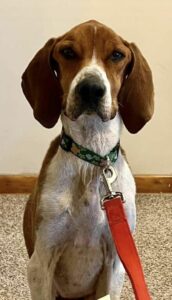 PAWS President Lori Gaitten said they work closely with the county dog shelter and spread the word about available animals via Facebook. "It's not uncommon for a small dog not to do well in the shelter environment, or they'll have a dog that's really sick or due to deliver puppies," she said. "We can help them remove dogs that need out of the shelter sooner rather than later."
Karen King, a work scheduling coordinator in AEP Ohio's Zanesville Service Center, has volunteered with PAWS for several years. She got involved when a friend found a sick dog and reached out to PAWS for assistance. With the help of PAWS, Karen fostered the dog, got him healthy and began to look for a home for him. The pup had other ideas in mind, however, and decided he'd found his forever family with her and her husband.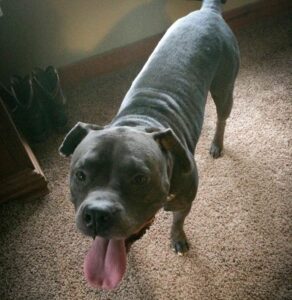 "I quickly realized that I am not a good candidate for fostering animals – I will just keep them all! But I can put my efforts toward other aspects," she said.
Though she describes herself as a "foster failure," Karen stays involved with PAWS, primarily helping them with their fundraising efforts, including their annual fundraiser, Fall for PAWS, taking place on Saturday, November 12, in New Lexington, Ohio.
"This fundraiser is the financial basis for our entire calendar year," Gaitten said. "We haven't had one for two years because of the pandemic. We've been able to survive on online donations, but the shelters are getting full again. It's been really tough."
Veterinary care is by far the group's biggest expense, she shared. Ensuring that a healthy dog is fully vaccinated, on heartworm and flea prevention and spayed or neutered can be almost $350, she said, and a small dog with heartworm can be over $1,000 to treat, with the costs increasing for larger dogs. Their adoption fees of $150 for dogs and $25 for cats don't go far when the vet bills start mounting up.
"Our greatest need is the financial aspect. The veterinary bills are overwhelming," Lori said. "We've spent $15,000 from January until now and we've still got several months left in the year, which stand to be some of our most expensive."
AEP Ohio is proud to support the causes our employees are passionate about in their communities. We recently made a $1,000 donation to PAWS, enabling them to provide full veterinary care for three dogs. If you'd like to learn more, visit them at PerryAnimalWelfareSociety.com.