Halloween can be a fun event for the whole family, but it's important to make sure that everyone knows about potential hazards. Before your kids head out the door, talk about safety procedures and consider Louie's tips so your night doesn't turn into a spooky situation.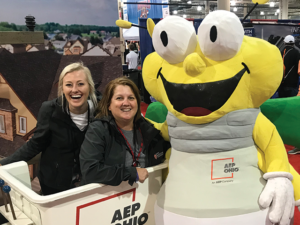 Stay in sight. Use reflective tape to make yourself more visible in dark or dimly lit areas. LED shoelaces or glow sticks are easy, inexpensive solutions that help drivers and other pedestrians see you from long distances. It's also a good idea to carry a flashlight. If you don't want to carry another item, the flashlight on your phone is a great option –– just keep the light down and out of other people's eyes.

Keep a clear path. Make sure that walking paths and doorways are free of electrical cords or any potential hazards that may get in the way for trick-or-treaters. Steps, porches and walkways should be adequately lit to prevent injuries or falls.

Plan your route. Only travel in familiar areas where you've been before. Always walk in groups, never alone. Walk on sidewalks or designated paths, and use crosswalks and traffic signals to cross streets, whenever possible.

Slow down. If you plan to drive, take it slow and keep an eye out for children crossing the street. Know the trick-or-treat hours in the area where you plan to drive. Anticipate heavy foot traffic and turn your headlights on as soon as the sun begins to set.

Avoid open flames.

Replace traditional candles with flame-free options like flashlights, battery-operated candles or glow sticks to light up your jack o' lanterns or seasonal decor. If you do decide to use candles, be sure to keep them away from leaves, other debris or flammable decor. 
For more safety tips, visit AEPOhio.com/Safety to learn about how to protect your family in and around your home all year long.