Electricity has its own safety rules — and it's always good to brush up on the basics, especially if you have little ones at home. Learn more below and scroll down to the bottom of the article for a special holiday activity.
Never Tug on a Cord: Remember, disconnect electronics by pulling the plug at the base — never tug on the cord. And be sure to discard any frayed or damaged cords — they could shock you. 
Hands Off: It's important to keep fingers and other objects away from power outlets — and never touch metal parts of a plug when inserting it into a socket.
Away From Water: Keep electrical appliances, like hair dryers, away from showers, sinks and bathtubs. Make sure your hands are completely dry before touching an electrical appliance.
Never Overload Outlets: Make sure the outlets in your home aren't overloaded with too many plugs — it can cause a short circuit and possibly start a fire.
Stay Away, Stay Alive: One of the most critical safety practices you can instill in your children is to never approach a downed power line. All downed lines should be considered dangerous. Teach your kids that if they encounter what appears to be a fallen power line, they should tell an adult immediately so that they can call 911 and AEP Ohio.
SAFETY STOP — BONUS CONTENT FOR KIDS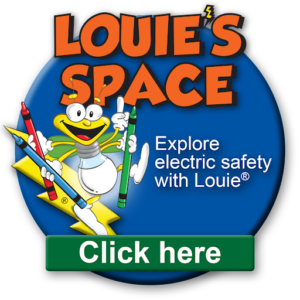 Louie the Lightning Bug has lots of resources to share for kids, caregivers and teachers.