Nearly 10% of AEP Ohio employees have either served or are currently serving in the armed forces, which means getting to support active military members and veterans through organizations like Serving Area Military in Massillon feels a little extra meaningful.
Known around the community as the SAM Center, this volunteer-led organization strives to do more than just support military members and veterans — it is on a mission to ensure all those serving and those who have served are taken care of in every way possible. Founded in 2015, the SAM Center works diligently to secure resources and donations, and even coordinates with other community organizations to find solutions to meet the needs expressed by military members and veterans in the Massillon, Ohio area.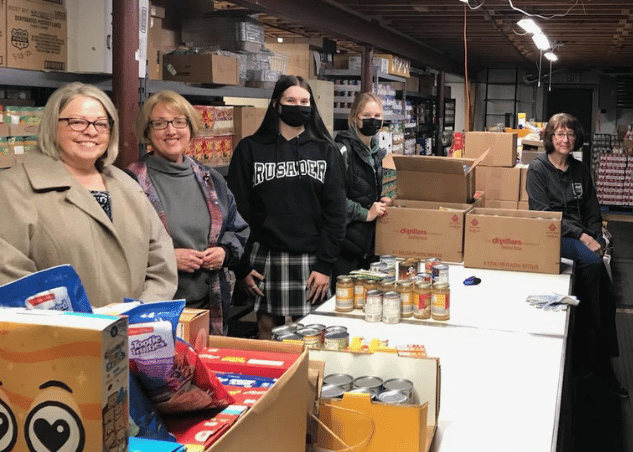 Over the years, it has even developed ongoing programs in response to some specific needs expressed by the military community. To combat food insecurity, they started a food pantry (with meat, fresh produce and shelf-stable food) that is available several times a month. Because the area has a large population of homeless veterans, the center created lodging kits with basic and necessities to set up a home. An annual resource fair was established as a way to connect veterans with more information about health care options, benefits and therapy programs available to them. They can also work with volunteers who provide assistance in navigating programs available through the United States Department of Veterans Affairs.
This fall, the SAM Center prepared Thanksgiving meal kits for 475 families in addition to 300 pre-cooked dinners that they directly delivered to homeless veterans and their families. They are also hard at work collecting donated toys and holiday gifts that will be used to stock their own "Santa's Christmas Shop" which will help families shop for gifts, clothes and other holiday surprises.
Valerie Salewsky, a field communications coordinator in Canton, began supporting the SAM Center when she noticed they were collecting board games to give out at Christmas.
"I am a huge fan of Christmas and game night, so this was instantly something I had to help with," said Valerie. "It's now my annual Christmas tradition."
Recently, AEP Ohio was proud to make a donation to support Christmas programs and activities at the SAM Center which will bring cheer to military and veteran families. Thank you, SAM Center, for working so hard to serve those who have served our country.