For the LGBT community, coming out is hard, no matter when or how it happens. We spoke with Jeff Jackson, a work scheduling assistant in Columbus, about his journey – and how he found love along the way.
"I've been pretty open about being gay since I was about 18 or 19. So, it's never been much of an issue for me," Jeff said. "I feel that pressure in some places but not very much anymore. And never at AEP."
Jeff attributes that comfort to an accepting culture at the company he says has only grown over the years. In 2007, he started working at AEP Ohio's customer call center and within a year was dating Antwan, a fellow call center representative.
Jeff and Antwan dated for a little while but, as relationships often do, it fizzled out.
Almost nine years went by. One day, when they were out with friends – they maintained many mutual friends even though Antwan had since left the company – sparks flew again.
"We were just a bit older. Life had happened a little more. In a good way," he said.
In August 2018, Jeff and Antwan got married and their AEP family joined the celebrations
"It was like an AEP wedding. So many co-workers helped us ring in our big day" Jeff said.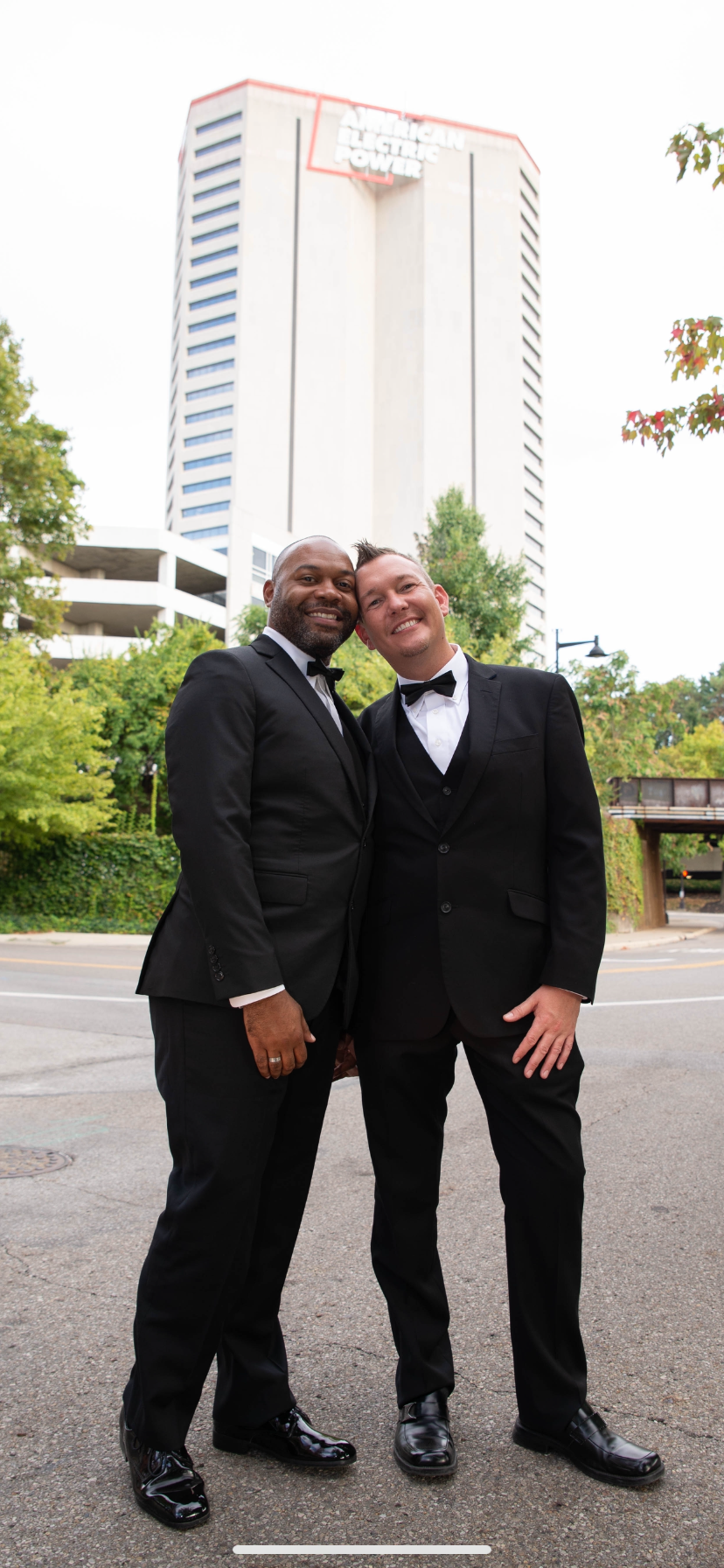 "There must have been 40 or 50 people from the company who came. We had so many people who were happy for us and who have supported us."
Growing up in rural Virginia and Tennessee in a church-going environment that wasn't always accepting, Jeff spent his early years keeping his sexuality closely guarded. Hearts have opened since then – especially in the last ten years, Jeff says, not just nationwide but even at AEP – and that's evident in legal and policy changes that have occurred. For example, before marriage equality was achieved in 2015, AEP had already been offering domestic partnership benefits for more than seven years. According to Jeff, it's just one example of the company not just talking about its support for diversity, equity and inclusion, but backing that support with action.
As we honor and celebrate Pride in June, Jeff shared why pride and letting your true colors shine through matters – every day.
We just want everyone to be able to be who they are, openly and authentically, and for others to be respectful. And that's across the board. We don't want special treatment. We want equal treatment. It's that simple.
___________________________________
 Learn more and find tools for LGBTQ equality and inclusion here.