Did you know pollinators are responsible for bringing us one out of every three bites of food? Animals and insects, like birds, bees, bats and butterflies, help move pollen from flower to flower — this process is essential to our food system and the survival of our native plants and flowers here in Ohio. According to the U.S. Forest Service, there are 1,400 crop plants in the world and almost 80% require pollination by animals and insects. For many years, the pollinator population has unfortunately been on the decline.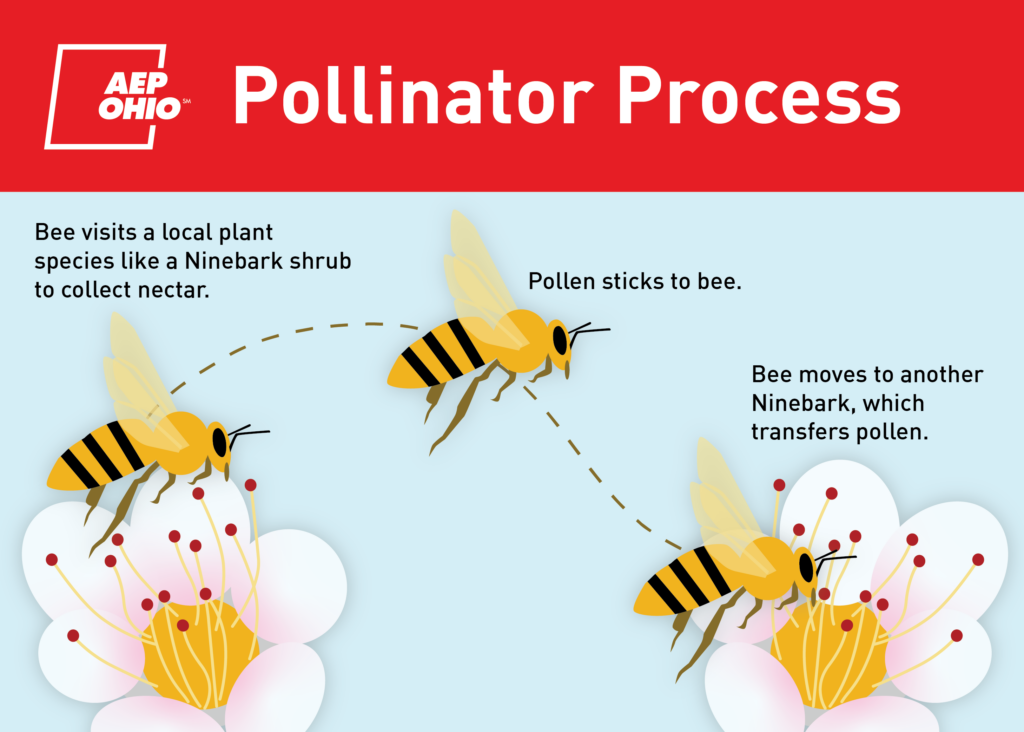 Partnering to Promote Pollinators 🐝
Earlier this year, leaders at Buzzard's Roost Nature Preserve in Chillicothe reached out to AEP Ohio with an idea to turn the existing right-of-way — the area around AEP Ohio's power lines and equipment — into a designated pollinator habitat to help promote the growth of native wildflowers and plants. When the AEP Ohio forestry team heard about the opportunity, they quickly jumped on board — realizing their work to keep the right-of-way clear could serve a dual purpose by helping keep the power on for customers and boosting pollinators. 
The pollinator habitat planting process is happening in four phases:
Treating the right-of-way with herbicides registered for use with the Environmental Protection Agency (EPA) and other state and federal agencies
Trimming the side walls of the right-of-way to open the canopy (the layer of leaves and branches that cover the ground when viewed from above) to allow more sunlight into the area

Mowing the area to bare ground to promote growth of the pollinator seed mixture

Placing a mixture of pollinator seeds on the ground 
AEP Ohio is currently in the process of the final herbicide treatment. Seeding will happen in late winter or early spring.
How You Can Help
Are you interested in boosting pollinators on your property? We recommend following these steps: 
Identify the area

where you would like to plant the pollinators. Remember, it's important to

plan before you plant

.

Work with a local nursery to

select seeds

that will thrive in your area. 

Begin seeding in late winter.

Seeding in late winter mimics the natural environment. In the fall, some tree and plant species create their seeds, which then lay in the ground all winter long. The freezing and thawing of the ground in the winter forces the seeds deeper into the soil. And when the soil starts to warm in the spring, the plants are ready to sprout! 🌱
To learn more about the work of our forestry team and how they help keep your power on, visit AEPOhio.com/Trees.