Photo credit: PJM Interconnection
You've likely heard us mention PJM, like when we asked for your help conserving energy during the extreme cold over the Christmas holiday. Read on to help answer questions you might have about PJM and how we work together. 
When it comes to your electricity, the service PJM provides is just one piece of the power puzzle. While we deliver electricity through our poles, wires and equipment to homes and businesses across our service territory, AEP works closely with PJM to make it happen. 
Who is PJM?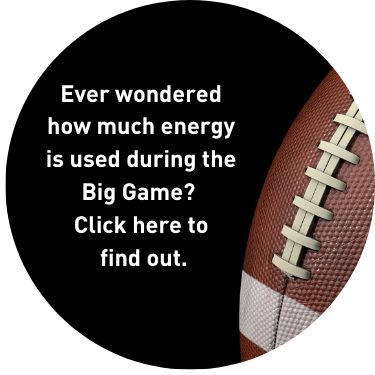 PJM is a non-profit entity that doesn't own power plants or power lines, but it coordinates with companies that do in 13 states and the District of Columbia. When coordinating the electric system, PJM acts as the "air-traffic control" for power by directing the power produced at 1,300 generation sites required to meet the demand. They continually assess the power flow across 85,000 miles of high voltage transmission lines 24 hours a day, seven days a week to ensure the power can be delivered to all connected customers.  AEP Ohio is responsible for ensuring the power is delivered to the distribution customers we serve. 
As usage of electricity changes throughout the day, they must balance supply and demand by telling power producers how much energy to supply.  At the same time, they are working with Transmission Owners like AEP to ensure high-voltage transmission lines and facilities are working correctly.
How do PJM and AEP Ohio work together? 
AEP Ohio and PJM monitoring systems and grid operators are in constant communication. Computers monitor the amount of power flowing through lines and substations, help make plans for upcoming weather events, and can even automatically operate equipment to keep power flowing. 
If PJM is able to forecast potential issues with the supply of electricity, they could ask utility companies like us to take action and request that our customers conserve energy to protect the power grid. When this happens — in coordination with PJM — we'll always work to provide you with real-time information. But sometimes, there simply isn't time to do everything needed to prevent an outage.
What's the difference between the emergency outages in June 2022 and the energy conservation request in December 2022? 
In June, major infrastructure damage prevented us from being able to deliver power to many homes and businesses in Columbus and eastern Ohio. Severe storms caused significant damage to high-voltage transmission lines that feed power to these areas. This damage meant there were fewer transmission lines available to carry electricity to customers. As temperatures climbed into the 90s and demand for energy grew, the remaining lines quickly became overloaded, requiring proactive emergency outages. Unfortunately, this was one of those emergency actions where there was no time to notify customers. This was an emergency action that had to happen in real-time to protect the grid and prevent potentially longer, more widespread outages. 
Over the Christmas holiday, the widespread, frigid temperatures across the country put extreme stress on the power system. With wind chills reaching -30 degrees, customers throughout the PJM area were using a lot of electricity to power their furnaces. The extreme temperatures also made it difficult for some power plants to operate at their full potential. This created a concern that there may not be enough power generated to meet the demands of customers. This prompted a proactive call for energy conservation across the entire PJM footprint. Thanks to your combined efforts, PJM was able to avoid emergency actions requiring us to enact rolling power outages.
Be on the lookout for more information in future newsletters on how the electric system works and check out the video below.