Each day, at 42 service centers across the state, more than 600 AEP Ohio lineworkers (plus even more contract lineworkers) fan out across our service territory to bring life to the electric grid. Across 1,000 communities and 10,000 square miles, they install new equipment, maintain our infrastructure and bring power back after storms and other outages.
It's a demanding, hands-on, 24/7 job, but these men and women are committed to the communities in which they live and work. In honor of National Lineworker Appreciation Day on Sunday, April 18, we tagged along with crews from the Columbus Northwest Service Center — just one of 42 across the state — to spotlight the dedicated effort that's necessary to keep the power flowing for AEP Ohio's nearly 1.5 million customers.
Going Behind The Scenes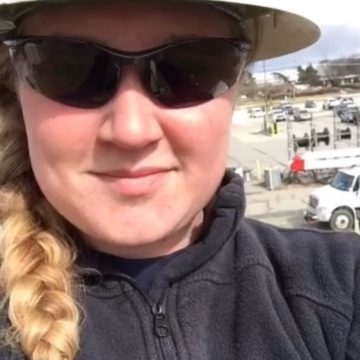 Our day begins as it does each day — with a 6:30 a.m. safety meeting to review the day ahead. After several days of beautiful 70-degree weather, temperatures have plunged into the low 30s. Crews are reminded to dress appropriately for the conditions, be mindful of the dangers associated with working out in the cold and hold each other accountable for focused and safe behavior.
The meeting concludes with a group stretching session. Because of the rigorous physical demands of line work, muscle sprains and strains remain the most common injuries. Preventative measures — including the daily stretch — are a priority.
The crews disperse at around 7 a.m. to their individual job sites — stopping to first review safety precautions for driving on the road. Below is a look into each of the job sites visited on our ride-along.
Stop #1: A building is under renovation that will soon house a co-working space, pizza restaurant and parks & recreation office. The building owner requested the removal of a utility pole out front, and a six-man crew is finishing the work of installing a new pole nearby and moving the existing equipment. The crew is larger than normal, which creates an opportunity for experienced lineworkers to quiz an apprentice on his knowledge as well as give him experience climbing and using a chainsaw atop a pole.
Stop #2: A renovation project at a community pool includes two new buildings and major upgrades to the 30-year-old facility. The work requires the relocation of electrical equipment at the site, including the removal of an underground cable encased in concrete. It's a multi-day, muddy job for the four-person line crew.
Stop #3: More than 100 electrical circuits power the Columbus Northwest area. AEP Ohio continuously checks every one of them over a five-year span to identify any equipment that needs replacing. For just one circuit, it's a two day-project for a four-person crew to make repairs. Today, they're upgrading aging system components. Circuit inspections — and the repair work that accompanies them — are a staple of lineworker duties.
Stop #4: Line servicers often form two-man crews who respond to a variety of customer inquiries in addition to smaller scheduled jobs. Depending on the volume and difficulty of the work, these crews complete on average eight to fourteen orders a day including new service installations, overhead-to-underground line conversions, temporary set-ups, etc. On this day, among other jobs, two crews find themselves moving a meter to accommodate a new above-ground pool, covering a power line for roofing work, prepping for an upcoming underground project around a below-ground pool and removing a temporary meter that had been installed while a new home was under construction.
The bright sunshine eventually gave way to clouds and the chilly weather remained. The work was done as scheduled and, most importantly, everyone went home without injury at the end of the day.
A safe and productive day is always one to celebrate. It's just as true at Columbus Northwest as it is for every service center throughout Ohio. And our employees will be right back at it because the work never stops.
Thank you, lineworkers, on behalf of our customers and the communities that rely on you.
Click here to learn how you can join us in celebrating Lineworker Appreciation Day. Or leave a comment below.